[dropcap]E[/dropcap]lon Musk and Tesla lived up to expectations this week by releasing the new Tesla all electric Semi Truck just before the holidays
"It can transform into a robot, fight aliens and make one hell of a latte," said Musk.
Here are the stats:
1)    500 miles of range
2)    Speed: 0-60 in twenty seconds with load
3)    80,000lb load capacity
4)    Onboard sensor set to reduce jackknifing, improve stability, and continue to update the truck's onboard computer with safety insights
5)    Up to 400 miles of charge in just over half an hour (or "on your break" as Elon puts it)
6)    Serious driver upgrade in the cockpit, with touchscreen displays for navigation, routing and connectivity and the driver centered over the chassis like a racecar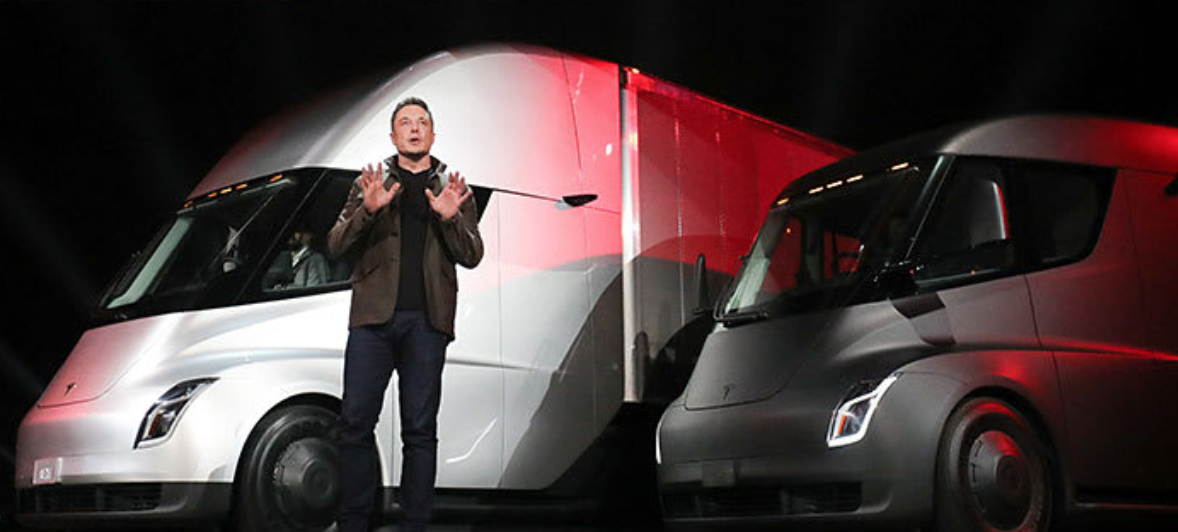 With the enhanced auto pilot, the truck can drive itself (on highways) and it gives the driver a chance to take a break, stretch out, or even check his email.
Every truck we sell has Autopilot as standard," Musk said of the Semi, which goes into production in 2019. "This is a massive increase in safety."
Reservations for a truck are only $5,000.
Walmart announced that it has made orders for fifteen Semi trucks with the hopes that it will help Walmart lower emissions and meet other sustainability goals.
Meijer, a Michigan-based supermarket chain, told Bloomberg at Thursday's event that it had placed orders for four trucks, putting down a $5,000 deposit for each one.
And J.B. Hunt Transportation has made a reservation to purchase multiple Tesla Semis.
"Reserving Tesla trucks marks an important step in our efforts to implement industry-changing technology," said J.B. Hunt CEO John Roberts in a statement.
With a shortage of about 50,000 truckers and an industry that is steadily growing, Elon Musk is single-handedly making trucking cool again!
There are some critiques of course. Truckers say that the centerline position for the steering wheel doesn't make a lot of practical sense.
Truckers look out the window when backing and they like to be able to hand paperwork to the security guard without leaving the seat.