Part of the "News from Central Asia" Exhibit and CAP's 10th Anniversary Celebration #CAPraising
We are celebrating our 10th Anniversary by bringing Central Asia to the heart of DC and launching our first public fundraising effort #CAPraising. Join us for a one-week, in person festivities to commemorate a decade of our achievement in advancing knowledge on and for Central Asia.
SUN MAY 22 2022 AT 11:00 AM TO 05:00 PM
Elliott School of International Affairs | Washington
The Silk Roads have existed for thousands of years, passing through many different empires, kingdoms, and societies throughout history. At certain times during their long history, traders could travel freely along these routes, whereas at others, travel was difficult, dangerous, or prohibited.
The Silk Roads enriched the countries it passed through, transporting cultures, religions, languages and of course material goods into societies across Europe, Asia and Africa, and uniting them with a common thread of cultural heritage and pluralistic identities.
Join us on Sunday to enjoy Central Asian art, culture and food at our Silk Road Festival and discover local vendors, artists, cooks, and performers.
Movie Screening
Movie Screening | May 21-22
Rhythms Of Lost Time. Trailer
The Crying Tanbur. Trailer
Cotton100%. Trailer  Uzbekistan's main cash crop, accounting for 17% of its exports
Sunflower. Trailer
Sea Tomorrow. Trailer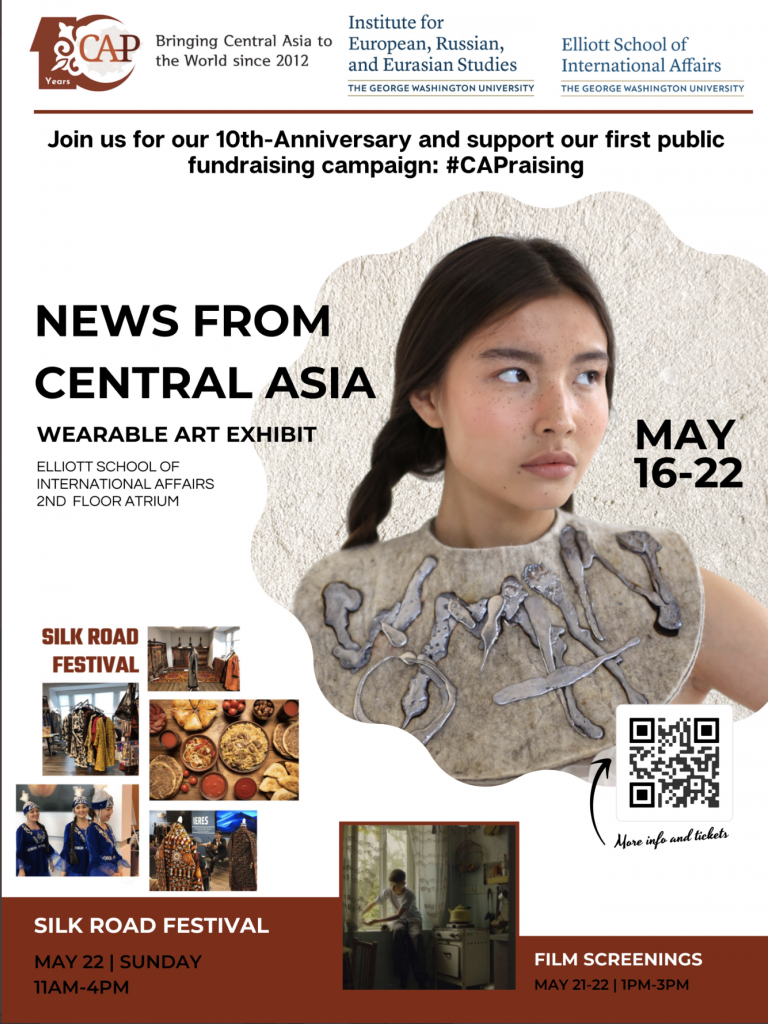 What was once the world's fourth-largest lake has shrunk beyond recognition. During the 1960s the main rivers that flowed into the Aral Sea were diverted for mass irrigation, and the sea slowly started retreating, with devastating economic, social, and environmental consequences.