Effective July 6, 2022, DC residents who are at least 21 years of age may self-certify on their patient application that they will use cannabis purchased from a licensed dispensary for medical purposes in lieu of securing a recommendation from their healthcare provider.
Registrations are free through August 18, 2022. Registrations issued by September 30, 2022, are valid for two (2) years from date of issuance.
DC residents, including minors, may legally be recommended, purchase, possess, and use, medical cannabis to treat a diagnosed qualified medical condition or related side effect. Non-resident patients may purchase medical cannabis from DC dispensaries if their jurisdiction has been extended reciprocity. A full list of eligible jurisdictions is detailed below.
Medical cannabis patients, including non-residents extended reciprocity, may purchase up to eight (8) ounces of cannabis within a rolling 30-day period and possess up to two (2) ounces at any time. Allowed formats include flowers, concentrates, edibles, transdermal products, seeds, and seedlings.
Federal laws continue to apply including the prohibition of transporting medical cannabis across state lines. The use of medical cannabis is not permitted in public.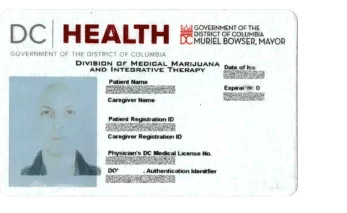 Medical Cannabis Proof of Residency Requirements
Registration in DC's medical cannabis program is restricted to DC residents. To substantiate residency, you must submit one (1) proof of residency with your application. The following are valid.
A copy of your DC DMV REAL ID with the included address matching the one used in your application
Proof of payment of DC personal income tax, in the name of the applicant, for the tax period closest in time to the application date
A property deed for a DC residence showing the applicant as an owner or co-owner
A valid unexpired lease or rental agreement in the name of the applicant on a DC residential property
A pay stub issued less than forty-five (45) days prior to the application date which shows evidence of the applicant's withholding of DC income tax
A voter registration card with a DC address
Current official documentation of financial assistance received from the District Government including, but not limited to, Temporary Assistance for Needy Families (TANF), Medicaid, the State Child Health Insurance Program (SCHIP), Supplemental Security Income (SSI), housing assistance, or other governmental programs
A current motor vehicle registration in the name of the applicant evidencing DC residency
A valid unexpired DC motor vehicle operator's permit or other official non-driver identification in the name of the applicant
A bank statement from a period within the two (2) months immediately preceding the application date in the name of the applicant with your DC residential address included
A utility bill (excluding telephone bill) from a period within the two (2) months immediately preceding the application date in the name of the applicant with your DC residential address included
Any other reasonable form of verification deemed by the Alcoholic Beverage Regulation Administration or the Alcohol Beverage Control Board or your designated agent to demonstrate proof of current residency
Mayor Muriel Bowser signed legislation in July that allows D.C. residents 21 and older to self-certify to their medical need for cannabis. You can do that at the Alcoholic Beverage Regulation Administration office, or online.
After D.C. legalized medical marijuana in 2010, patients have had to get a doctor's recommendation and a medical marijuana card in order to legally purchase marijuana. The government-issued cards cost as much as $100 every two years.
Medical marijuana dispensary owners have complained about losing customers because of the process and competition from stores that operate in a gray area of the law. Such stores "gift" marijuana to customers who buy items such as shirts, artwork or music downloads.