While Crystal City Restaurant has been a staple of Arlington for many years, what few may know is that it has been around for over 50 years. Originally just a restaurant, it now is a Gentleman's club that has pretty good food.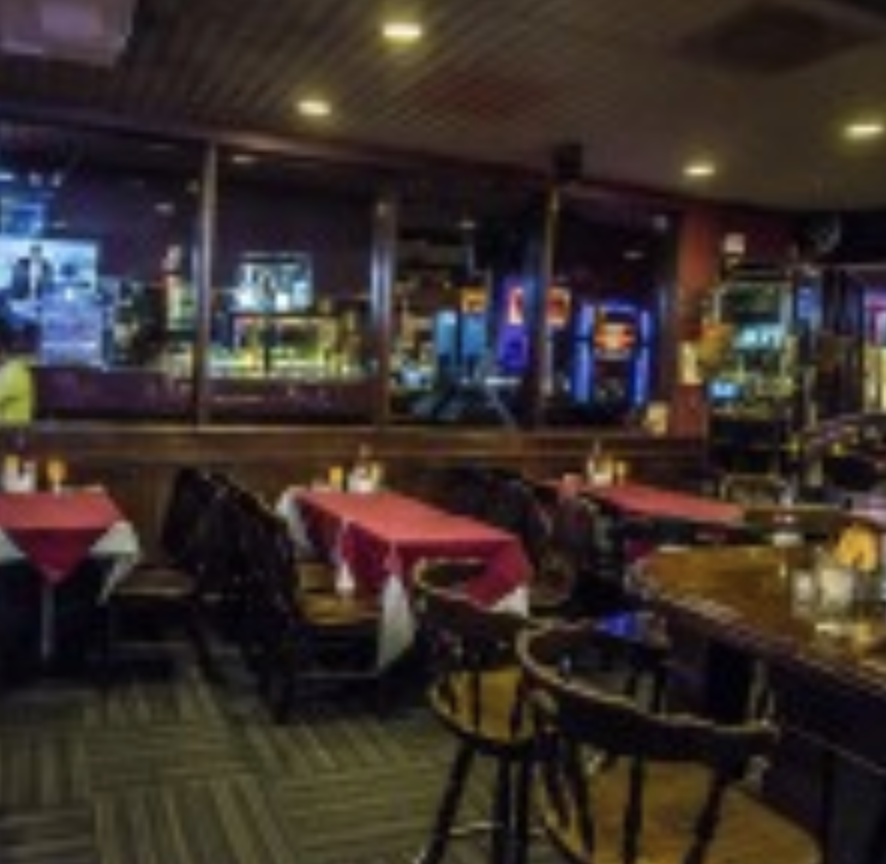 Since you are going be hanging around for the shows anyway you may as well get a good bite to eat. The atmosphere is dim as expected with dark maroon walls and black lights surrounding the stage. The decor is simple and classic featuring lots of wood and tables with white and red tablecloths reminiscent of cute Italian ristorantes. In its own eclectic way the mesh of styles works. The part of this restaurant/gentleman's club that sets it apart is an enclosed bar where patrons can smoke while catching their own intimate show. Having its own smaller stage as well as several flat screens tuned to what else but sports stations, it has something for everyone.
During a chat with Sunny who dances at Crystal City Restaurant I found out the girls only do 4 minutes sets, but they do one every hour. Then they walk around greeting and mingling with the guests, which is nice if you are lazy and don't want to walk all the way up to stage to tip them. I had heard stories of the ladies being a bit pissy if you didn't tip them when they made their rounds but I found that to not be the case at all. All the ladies were friendly  regardless of being tipped or not. The shows were good, though some dancers were apparently more enthusiastic than others. I particularly enjoyed a dance put on by two ladies at once. It was obvious they were having a good time, and they put on one hell of a show. Shame I couldn't take any pics of the ladies doing their thing. You will just have to go and see them for yourself.
As for the food, it w
as surprisingly good considering it is a Gentleman's club first and foremost these days. I started with an appetizer of mini crabcakes at the recommendation of my lovely waitress. She definitely wasn't lying about the crabcakes having no fillers, they were packed with plenty of fresh crab and large chunks of it. This is what crabcakes should be like everywhere. The plate had 5 mini crabcakes served with slices of lemon, tartar and cocktail sauces. The tartar tasted freshly made and the cocktail sauce was zippy but not too heavy on the vinegar. The crabcakes were done perfectly, still tender and delectable while warm throughout. The flavoring hinted at old bay but didn't overdo it. The strawberries, though just a garnish, were fresh which I appreciated. If you are visiting and want a sample of good seafood seeing as you are on the coast, order a plate of these crabcakes.  They are honestly amazing!
For my entree I de
cided to try the daily special, an 8 oz filet mignon with two sides. I chose the asparagus and freshly made mashed potatoes. Make sure you ask if it has been made fresh, as I found out on certain days when pressed for time it is half fresh and half boxed. Their choices of steak sauce included A1, Heinz zippy and worchester sauce. I politely refused steak sauce until I had tried the filet on it's own. Luckily, the steak needed no dressing to make it taste better. The food came displayed beautifully in a stack of mashed potatoes, steak and skinny fried onion rings on top with the asparagus displayed in a fan to the side. While the stack was beautiful it was a bit awkward when I cut into the steak and the potatoes proceeded to part not unlike the Red Sea. Awkwardness aside, the steak came as ordered, when I asked for rare I got my steak as rare as any chef would dare go, and it was nicely seasoned with black pepper and spices. I might have gone a little heavier on the seasoning personally as I like my steaks bold but it was plenty pleasant and not at all bland. The only real issue I had was the gristle as no filet I have ever ordered before has had it. Despite finding it odd, it did signify one thing to me that the steak was cut in-house which is generally a good thing in my book. Now they just need to work on trimming the gristle. The steak itself was splendid once I got past the gristly part, tender, juicy and flavorful.
As for the sides, It was easy to tell the mashed potatoes were not boxed but instead real potato. They were thick, I mean extra thick, just the way I like them. It was served with a savory brown gravy on the side that had a good full flavor with a slight pepperiness to it and hints of garlic. I was glad it wasn't overly salted either. The asparagus was steamed crisp tender and lightly coated with a tasty butter sauce. Overall this special was very good but not blow your mind great. However, not spending much time in Gentleman's clubs personally, I would wager it blows the food quality out of the water compared to any other such clubs.
For dessert I chose a warm apple pie a la mode, which simply means with ice cream on top if you were wondering. It was served piping hot and garnished with strawberries and whipped cream. The apple pie was plenty sweet without being too much so and featured firm bites of deliciously cinammony apples. The vanilla ice cream was creamy and a good accompaniment to the pie. The crust was flaky with the right amount of salt to it which counterbalanced the sweetness from the filling and ice cream. This was everything I look for in a pie, it was hearty and a good blend of sweet and spicy. It was a true shame I was too full to finish the dish.
The whole experience was wonderful from the dancers to the service and most assuredly the food. I think you will agree when you visit that the food is m
Much better than you would ever expect at a Gentleman's club and the atmosphere is welcoming. And don't forget the crabcakes if you love seafood like I do. I think I will have to make a special visit from time to time just for those luscious crabcakes.