Photos by Jason Morenz
On October 25th, 2022, decked-out drag queens and kings strutted their stuff in Dupont Circle DC as part of the 35th annual 17th Street High Heel Race.
Each year on the Tuesday before Halloween, spectators line several blocks between R and P Streets to watch participants sprint a quarter-mile in towering heels.
The parade started at 8 p.m., followed by the race at 9 p.m.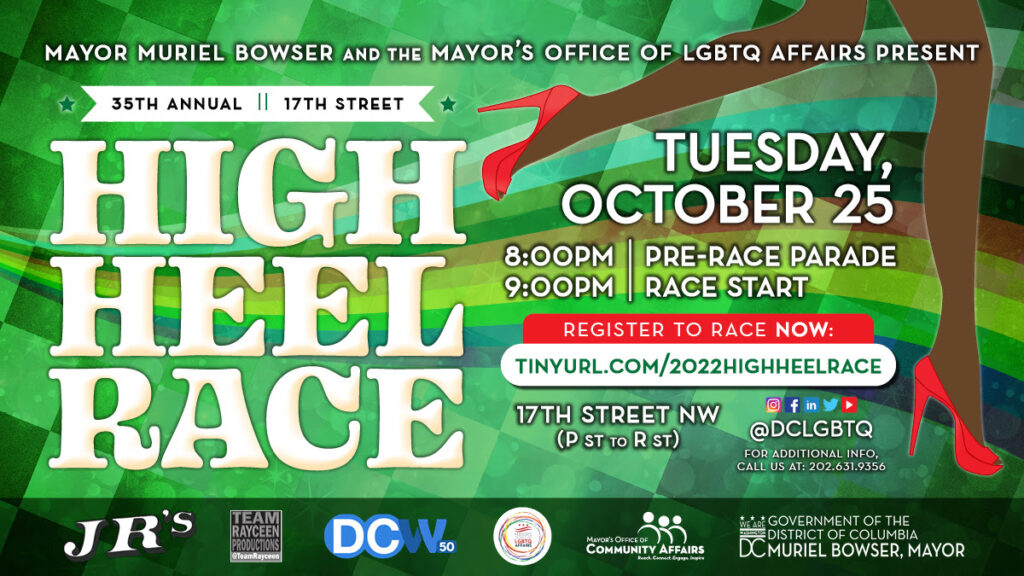 The event was hosted by Mayor Muriel Bowser and the Mayor's Office of Lesbian, Gay, Bisexual, Transgender and Questioning Affairs and is a collaboration between the DC government and the LGBTQ community.
"This is a city-wide event … people look forward to it. They want to have fun, and we want people to know this about D.C. — we're not just the government, we have fun," said Mayor Muriel Bowser.
The race started on Halloween in 1986 as a wager between 25 drag queens who had to race from JR's Bar on 17th Street to Annie's Paramount Steak House and then back to JR's Bar to win a bottle of champagne. The event stuck and has become an annual fall tradition that people from all over the region look forward to celebrating the week before Halloween. It was organized by JR's Bar, but in 2018, it became an official mayoral event