This weekend❗️ Largest Vietnamese Heritage Festival on the East Coast. There will be food, fun, performances, fashion shows, pageants, back to school giveaways, raffles, and more! Visit vietfest.com for more info. Programming schedule is available here: vietfest.com/schedule . We also have a collaborative after party event presented by @subtleasianparty.dc, tickets are available here: ticketfairy.com/event/sap-dc-retro/?r=sap
VietFest is the largest Vietnamese Festival on the East Coast. VietFest 2022 will take place on August 20-21, 2022 at the Plaza at Tysons Corner Center in McLean, VA.
The National Organization for Vietnamese-American Leadership of Greater Washington DC (NOVAL-DC) is pleased to organize the Ninth Annual Vietnamese Heritage Festival to be held on August 20 and 21, 2022.
Under the theme of "Back to the Culture," after a two year hiatus, the Vietnamese Heritage Festival returns to showcase the many talents of Vietnamese-Americans, wonderful culture and traditions of the Vietnamese people, as well as delicious cuisine of our different regions. There will be booths for children's games, concerts by renowned Vietnamese singers, dancing competitions by college dance troupes, fashion shows, arts and craft exhibitions, and business expositions.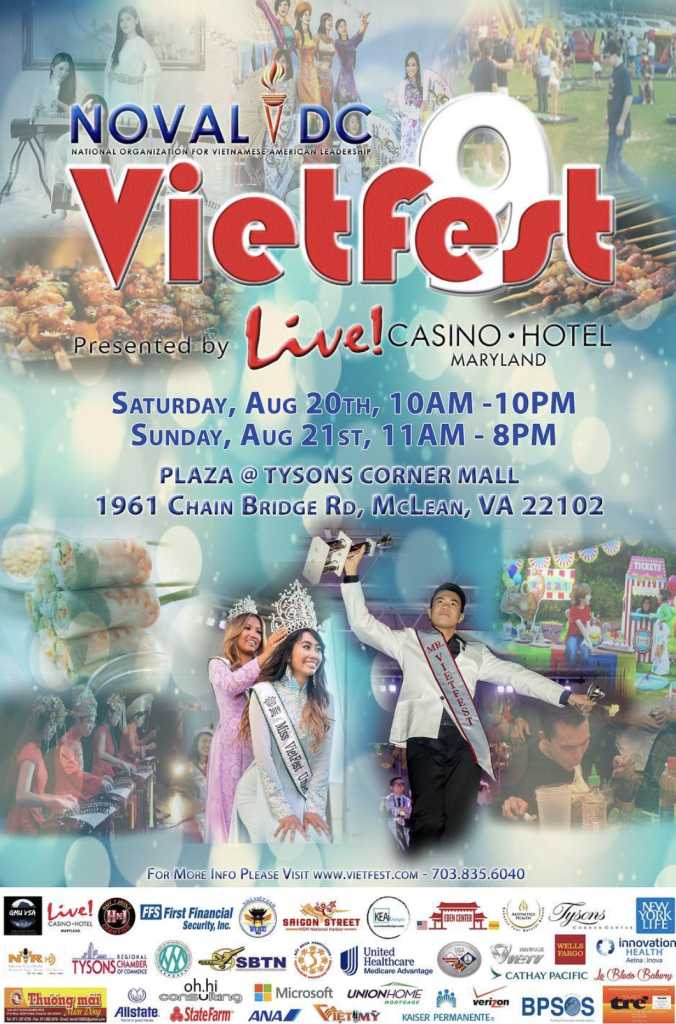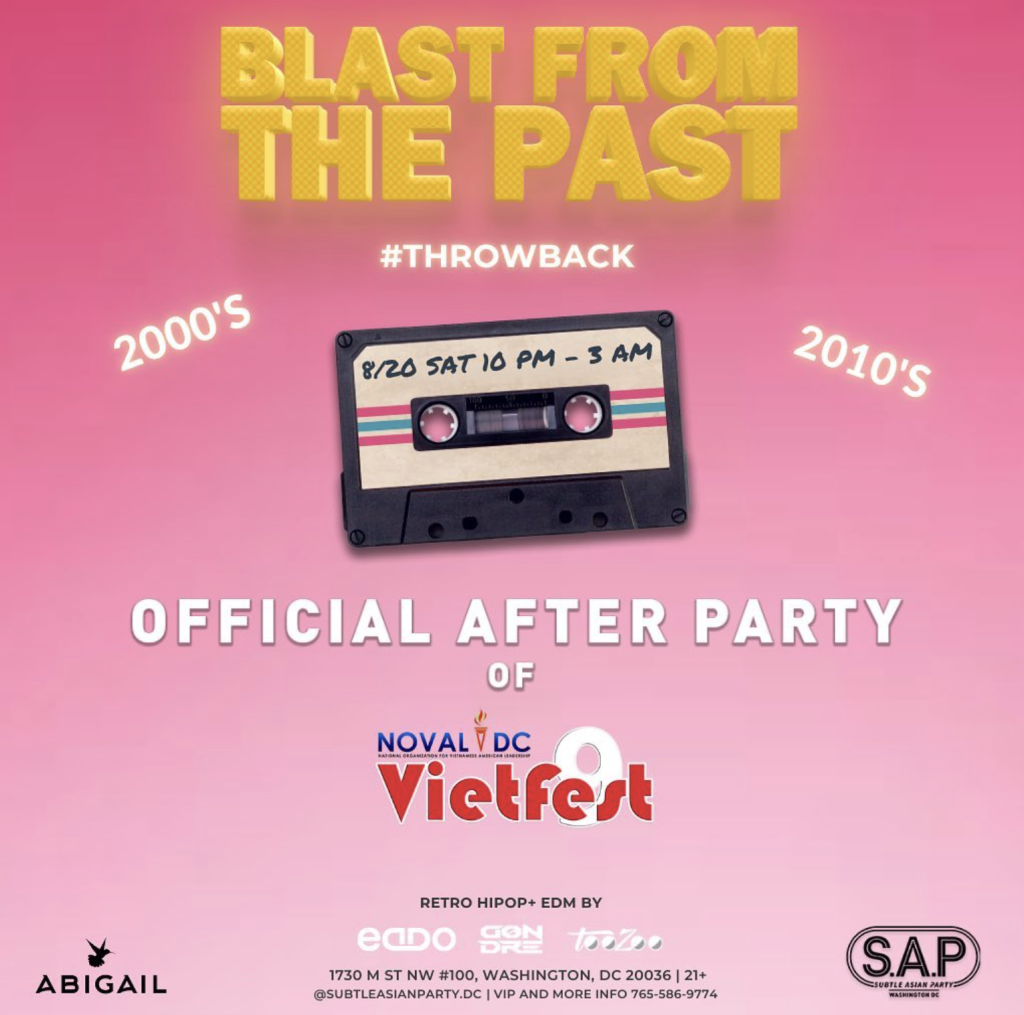 ​​SATURDAY, AUGUST 20, 2022
12:00pm-12:45pm – Opening Ceremony [Main Stage]
Tradition Lion Dance

National Anthem of the United States

National Anthem of South Vietnam

Moment of Silence

Introductory Speeches of Organizers, Sponsors, and Elected Officials
​
12:45pm-1:00pm – Cultural Programming [Main Stage]
Dance Performance: "Y.E.U. (L.O.V.E)" Girl Scout Troop 5484 Phong Chau
​
1:00pm-2:15pm – Eating Competitions [Center of the Plaza]
Pho Eating Competition sponsored by Chick'n Broth Restaurant

Crawfish Eating Competition sponsored by Hot N Juicy Crawfish

Banh Mi Eating Competition

2:15pm-3:30pm – VietFest Got Talent [Main Stage]

3:30pm-4:00pm – Cultural Programming [Main Stage]
Shaolin Temple Martial Arts Demonstration

Children's Dance Nhom Tieu Nhi

Traditional Vietnamese Dress (Ao Dai) Fashion Show
​
4:00pm-5:30pm – Miss VietFest United States Pageant Part I [Main Stage]
5:30pm-8:30pm – Mister VietFest Competition [Main Stage]
Introduction

Runway

Talent

Q&A
SUNDAY, AUGUST 21, 2022
12:30pm-1:00pm – Opening Ceremony [Main Stage]
Tradition Lion Dance

National Anthem of the United States

National Anthem of South Vietnam

Moment of Silence

Introductory Speeches of Organizers, Sponsors, and Elected Officials
​
1:00pm-1:15pm – Cultural Programming [Main Stage]
Dance Performance: "Y.E.U. (L.O.V.E)" Girl Scout Troop 5484 Phong Chau
​
1:15pm-2:30pm – Eating Competitions [Center of the Plaza]
Pho-Eating Competition sponsored by Chick'n Broth Restaurant

Crawfish Eating Competition sponsored by Hot N Juicy Crawfish

Banh Mi Eating Competition
​
2:30pm-3:00pm – Cultural Programming [Main Stage]
Shaolin Temple Martial Arts Demonstration

Traditional Vietnamese Dress (Ao Dai) Fashion Show
​
3:00pm-4:30pm – CelebrAsian Talent Showcase [Main Stage]
Mika Simone

Sophie Yang

SNRG & Guests

Dave Tauler

Heesun Lee

Jamon Maple
4:30pm-7:30pm – Miss VietFest United States Pageant Part II [Main Stage]
Introductions

Evening Wear

Traditional Vietnamese Dress (Ao Dai) and Proverb Presentation

Final Question