There isn't much nightlife activity on Crystal Drive, so most folks cross Route 1 to Restaurant Row on 23rd St where there is a short but bustling enclave with a bundle of hookah shops and Ethiopian and Asian eateries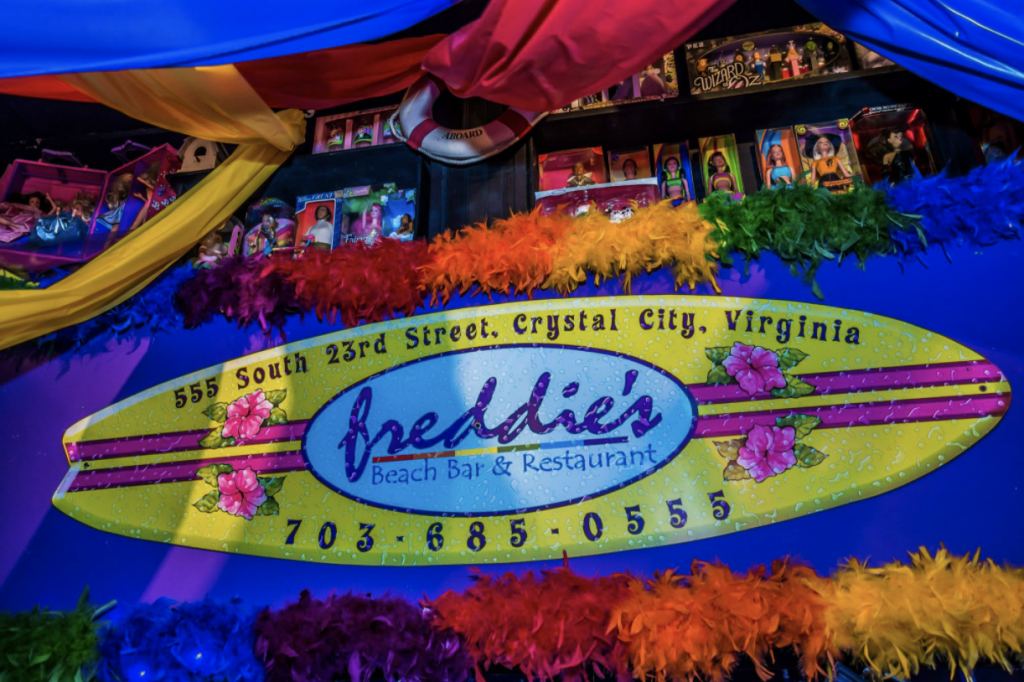 Right in the center stands Freddies Beach Bar, Northern Virginia's longest-running gay bar. The beach-themed, purple-lavish bar is adorned with rainbow flags, Barbie dolls and pink flamingos. Freddie Lutz, who grew up down the hill and has owned the business for 20 years. He is an affable man, a respected community leader, who has been working in the industry for over 40 years.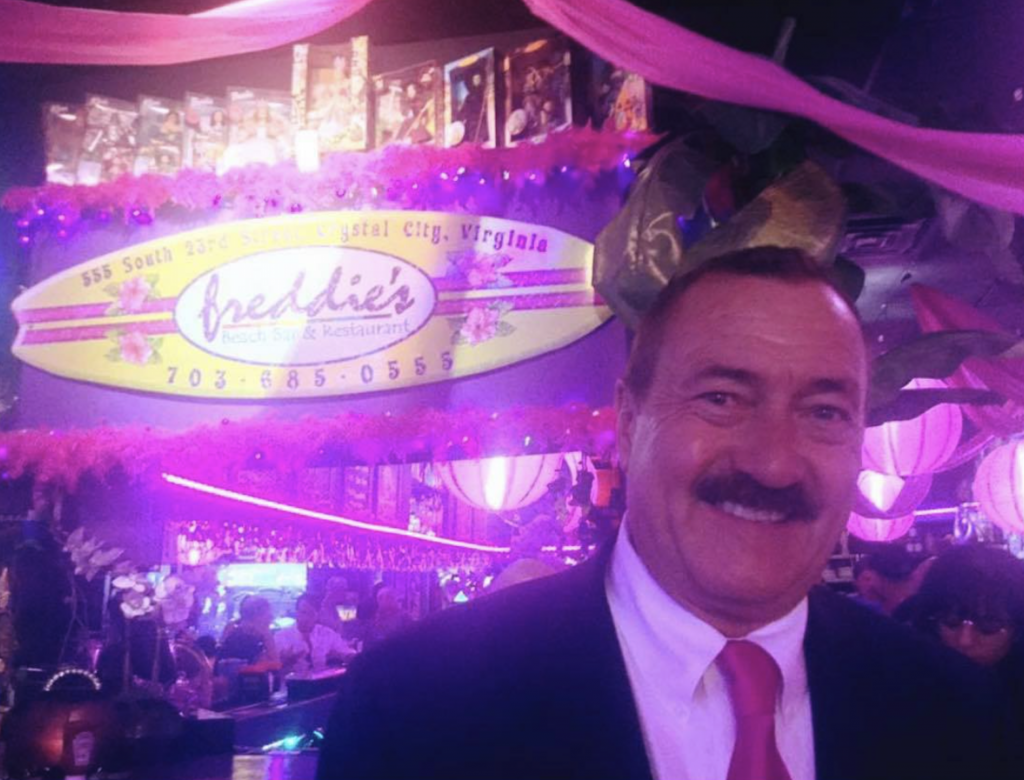 He opened Café Italia 25 years ago and then decided to open up a Gay Bar across the street.
Before the repeal of "Don't Ask, Don't Tell" many gay service members were in the closet. All it took was someone to even think you were gay to report you. That's why Freddie's served as a safe refuge because it was advertised as a "straight-friendly" bar. This gave everyone protection – they won't have to worry about been seen because straight people went there to.
When we walked through the lavender entrance, we knew we were going to have fun. The bar was filled with patrons knocking back pints of Devil's Backbone. A Ballard from Doris Day was belting in the background.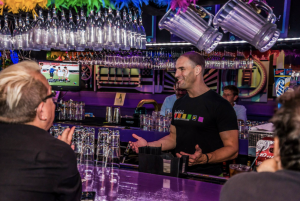 We found Freddie himself going table to table, mingling with customers.
"Freddie's is the most diverse bar that I know of. We have an unbelievable mix of people here and everybody gets along. That's one of the most magical thing about us."
"I want to personally thank you for bridging the gap between the gay and straight communities. When I served in the military in the 80's, I had a few friends who were gay. They struggled to stay in the closet and had scarce opportunities to meet others without the danger of been outed. Thanks for been a refuge for those who forced to hide."
"I'm glad we were there for them when they needed us. My dad was an Army Colonel and buried in Arlington National Cemetery. So I know all about military service, and I'm very honored to have served as their sanctuary before Don't Ask Don't Tell was repealed."
After chatting with Freddie and ordering our cocktails, I came upon two of my friends who I had known for years. Dwayne and Ty Jones were enjoying the music, ambience and cuisine.
"Absolutely, Freddie's is such a great place to get together. We need one of these in every city," said Dwayne.
"Couldn't agree with you more. It's such a great atmosphere."
Despite Freddie's popularity, gay bars today are dwindling since many bars have accepted the LGBTQ culture and have adopted drag shows to their regular performances. Freddie's has been a huge building block for the community and fortunately will be here to stay.
"Next time you have a craving for pasta, try Federico Ristorante across the street. They've been a fixture here since 1976."
"Will do. And thanks for bridging the gap in our community."
"Thanks for coming over," Freddie said. "See you at Freddie's Follies on Saturdays."