[dropcap]D[/dropcap]C Council member (Ward 1) Brianne Nadeau has ramped up the offensive against the home-sharing company, Airbnb.
In D.C., as well as in most metropolitan areas in the US, rental properties are required to have a basic business license which entails checking for proper zoning and getting inspected by the city.
Unfortunately the vast majority of Airbnb landlords are skirting this system. Not only are they not ensuring that their homes are safe (have wired smoke detectors, have proper electrical outlets, have proper fire egress, etc), they are illegally renting out their properties when they do not have the permission to do so.
Many condo associations discourage short term guests and airbnb landlords are actually renters who do not have the owner's permission to do so.
DC has a housing affordability problem and thus many apartment buildings are rent controlled and not allowed to be rented out on Airbnb.
Last month Nadeau, DC Working Families and the Latino Economic Development Center conducted a sting at a unit at 3504 13th St., NW by booking a two-bedroom apartment for a three night stay for $1,161.  The apartment was rent controlled and they did not have the proper license to rent out, thus it was an illegal rental. The total cost was more than what some people pay for an entire month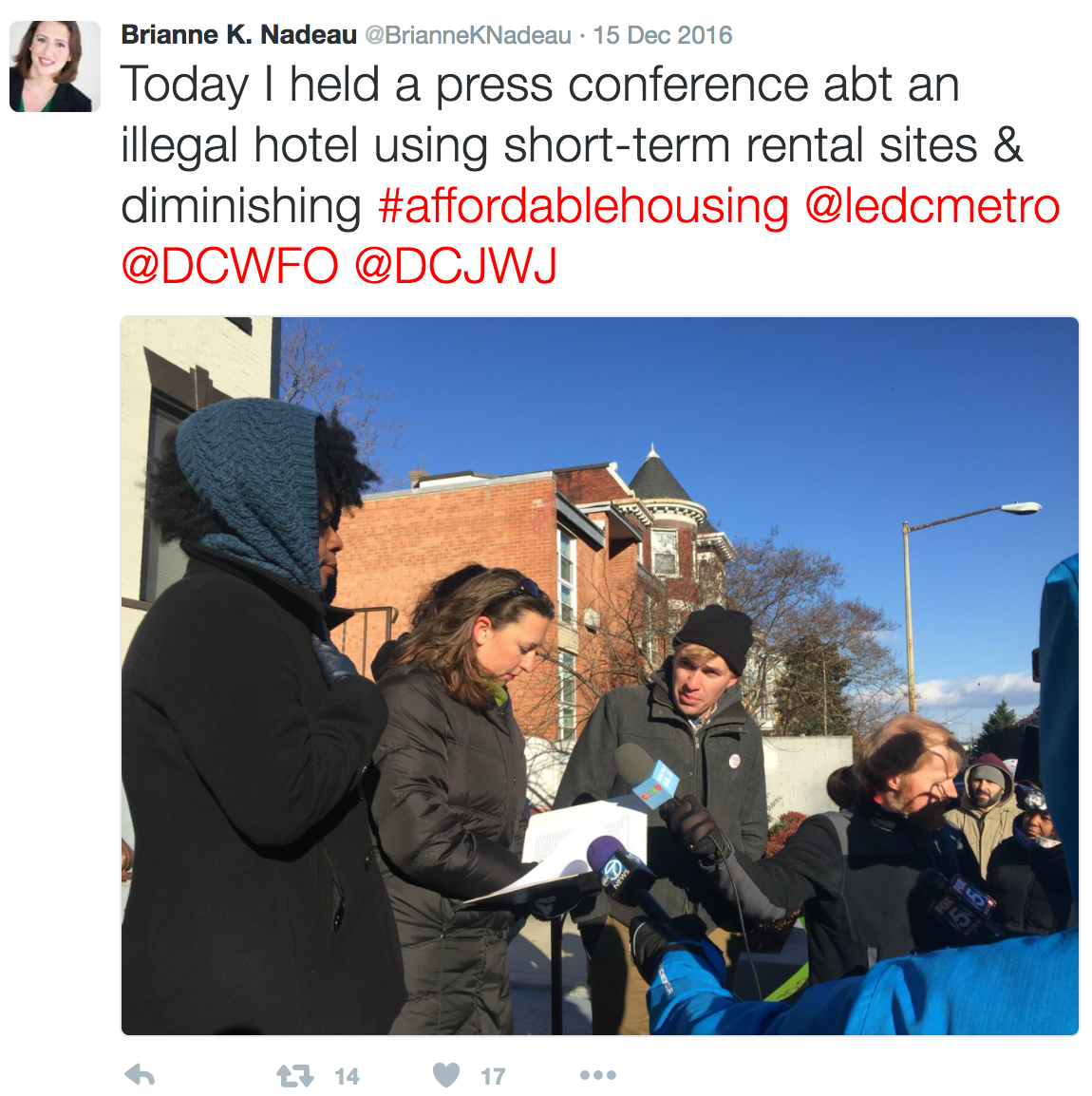 This year, Nadeau will introduce the "Short-term Rental Housing Abuse Reduction and Transparency Enhancement Resolution" calling on the District of Columbia Regulatory Affairs (DCRA) to expeditiously revise its rules on short-term rentals to ensure safety and affordable housing are addressed.  Nadeau also calls for DCRA to establish a business license requirement and penalty for violations.
Meanwhile in New York, Governor Cuomo signed a law that would impose fines for advertising rentals that violate New York city's short-term rental rules.  Many cities such as Chicago and Miami including Airbnb's home in San Francisco have been cracking down on Airbnb – it's finally time for D.C. to do the same.
Photos by DC Working Families