by Anna Quayle & Kaitlyn Smith
Going to an event at the Verizon Center? If you have a big group,
Carmine's
is the perfect place to go to enjoy an amazing family-style Italian meal. It's like sitting in your grandmother's dining room eating a home-cooked meal, except its 20,000 ft2 and has a secret service entrance.
Carmine's has a rich decor of wood, soft tunes, and wonderful aromas. With plenty of pictures and soft lighting. It has 700 seats and a humungous  7000 sq ft kitchen. Chandelier and large menus on the wall. According to Jill Collins, it's the biggest restaurant in D.C.
A short walk from Capitol Hill, Carmine's often hosted many members of the Senate and Congress who visit regularly.  Because of their large party rooms with doors that can close, it is perfect for members of Congress and the Supreme Court justices who may have a security detail for those needing a private entrance.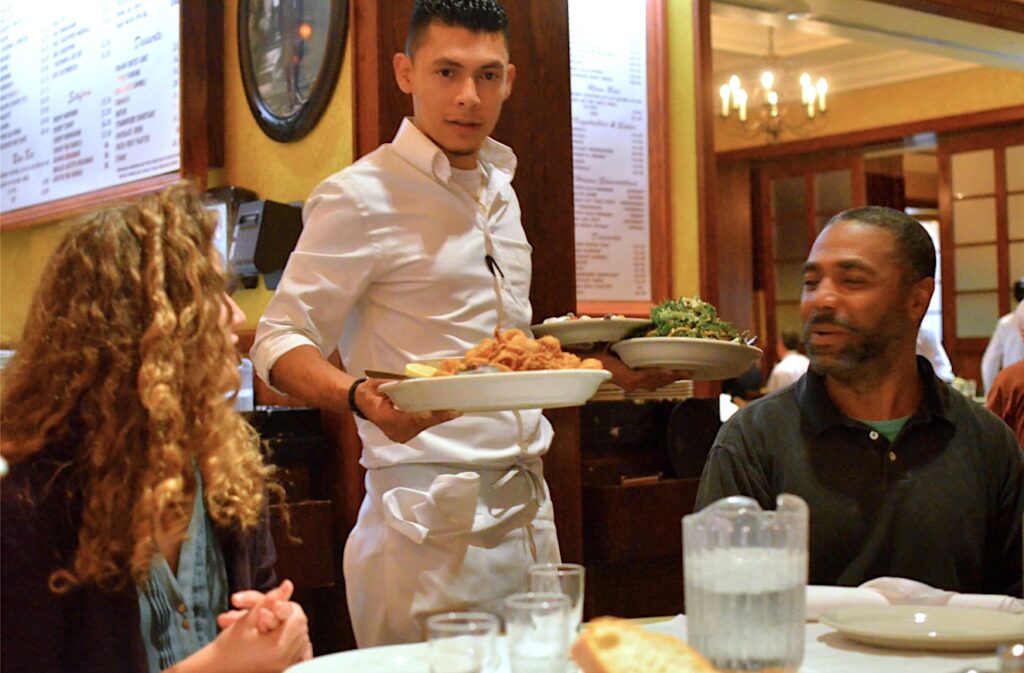 When our food arrived, it was easy to see why. Although Carmine's DC is part of the famous New York Carmine's, it is family owned and nearly everything is made locally or in-house. Every two hours, a fresh batch of meatballs is made and since Carmine's opened, they have served over half a million of them to guests.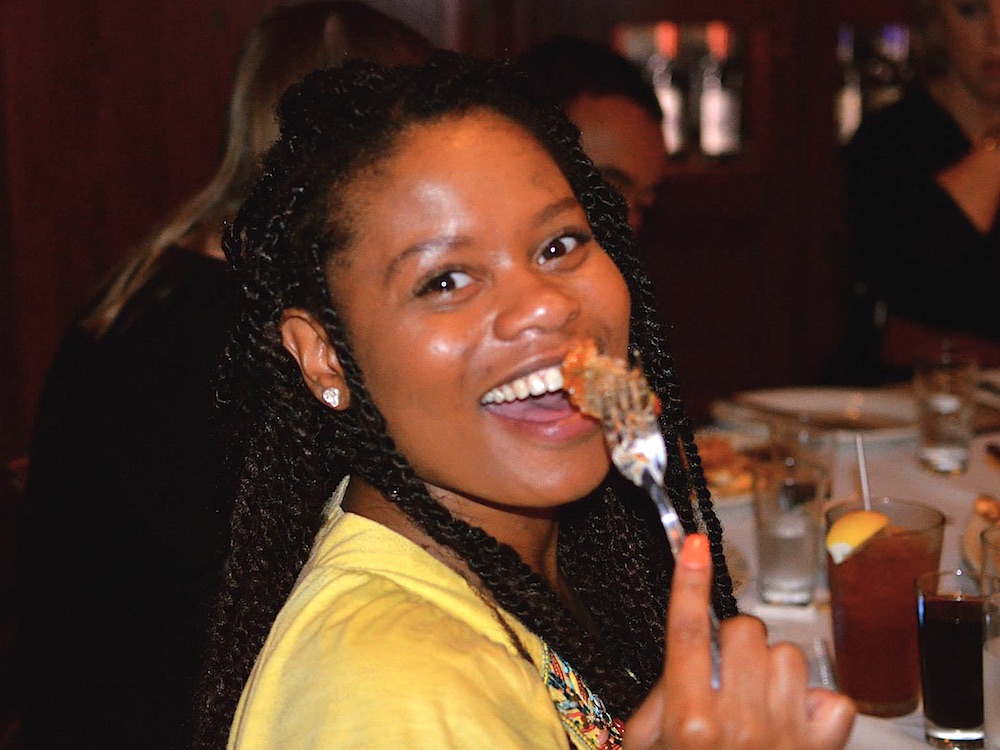 The waitstaff is very personable and accommodating and everyone we spoke with was very knowledgeable and hospitable. We started off with the house Montepulciano, which was smooth but still slightly spicy and very drinkable, and enjoyed their freshly baked Focaccia bread. The calamari was crisp on the outside but the smaller whole squid almost tasted burnt. The rings of squid were just great. The homemade marinara sauce was lightly spicy and full of delicious tomatoes. It had a full flavor and was seasoned very well.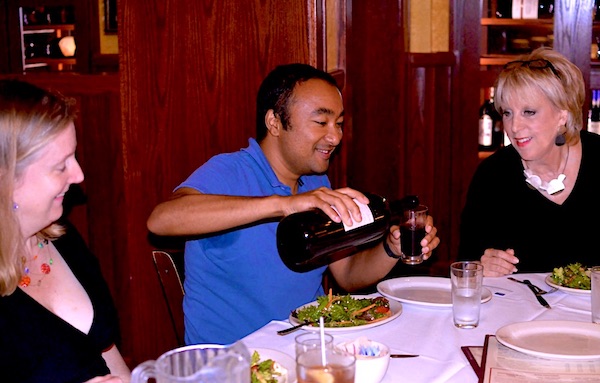 Next, we ordered a delicious Gorgonzola and Apple Salad which had fresh-cut pears, dried cranberries, and Gorgonzola with a nice light balsamic vinaigrette. It also had julienne carrots and cherry tomatoes. The blend was excellent and also came with walnuts. The crunch of carrot and pear was nice and the Gorgonzola added that perfect finish of piquantness.
Following the salad, we sampled two of the appetizers from the menu including the roasted red peppers in olive oil with fresh mozzarella and the crispy fried calamari with marinara sauce. Both of these dishes were amazing, but the roasted red peppers were particularly flavorful. Perfectly roasted in a nutty extra virgin olive oil, the peppers were slightly sweet and complemented the fresh and pillowy mozzarella.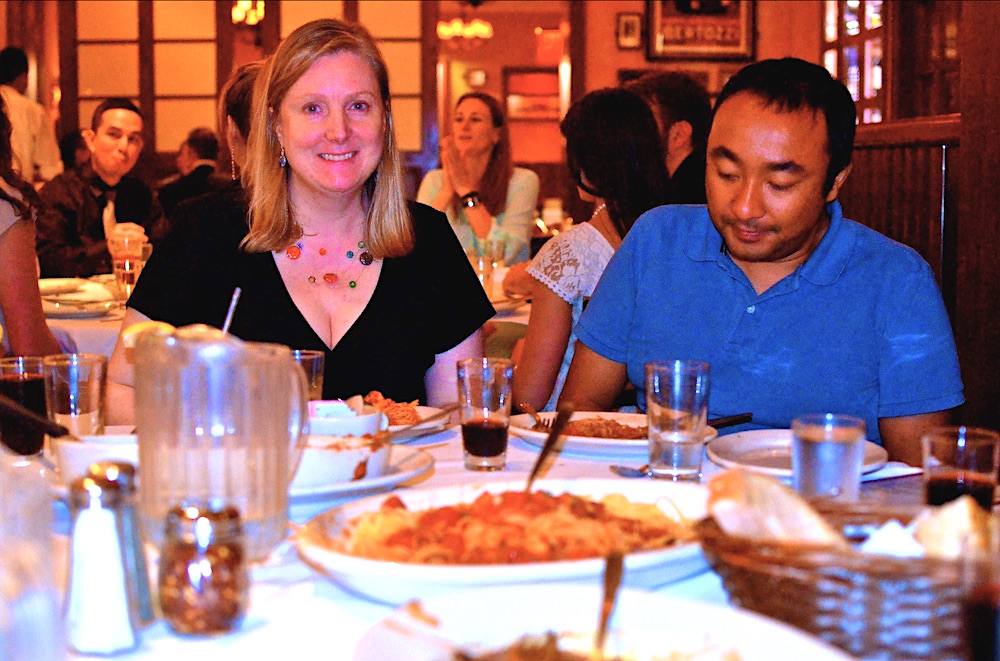 The mozzarella with roasted red salad and basil was light, extremely fresh, and drizzled with olive oil. The freshness of the roasted pepper I especially noted, it was very sweet, roasted just perfectly, and still had a bit of firmness to it instead of being completely limp.
The Marsala chicken was really very tasty, and the tiny bit of sweetness from the wine was appreciated. It was also savory from the garlic and pepper. The mushrooms were sauteed well. Less appreciated was how thin the chicken was. It was a little crisp around the edges. The flavor of the sauce though made up for ultra-thin meat.
The shrimp Diavolo was again tasty but for me, the shrimp was a little overcooked to the point of the jumbo shrimp splitting.  The sauce had just the slightest hint of spicy, I would have been more impressed if it had been spicier and the shrimp not overcooked. It was served with angel hair pasta. Of course, the sauce was freshly made as well. Really the only thing not made on the ground was the mozzarella and bread. The recipes for bread do belong to the restaurant but are cooked off the premises simply because of the amount of space it would require to bake all the bread in-house.
For our main entree, we feasted on an impressive sampling of Carmine's famous meatballs, Lasagna, country-style rigatoni, chicken marsala, and shrimp scampi. From my first bite of the meatballs, it was clear why they have sold over half a million since their opening. The Lasagna was the perfect ratio of fresh ricotta and pasta to meat and sauce. It came piled high in a deep dish pan.    The Italian sausage was seasoned with caraway which I enjoyed.  Although all of the dishes were delicious, my two personal favorites were the chicken marsala and the country-style rigatoni. The marsala sauce is perfect with its deep, rich flavor and the country-style rigatoni is pure comfort food.
Jill spoke of good food done well as being their motto. The meatballs were nothing less than exceptional, especially with the table Romano cheese on top. It was tangy and I suspect was made of sheep's milk. The house specialty pasta had the right amount of beans, broccoli, onions, Italian sausage, and rigatoni. It was again, very fresh with a buttery sauce over the whole dish.
The Montepulciano wine was smooth with a good amount of tannin but not too much.  The cappuccino was spot on. A nice froth cap and strong espresso mixed with steamed milk. It went well with the desserts: tiramisu and the titanic, the world's largest banana split.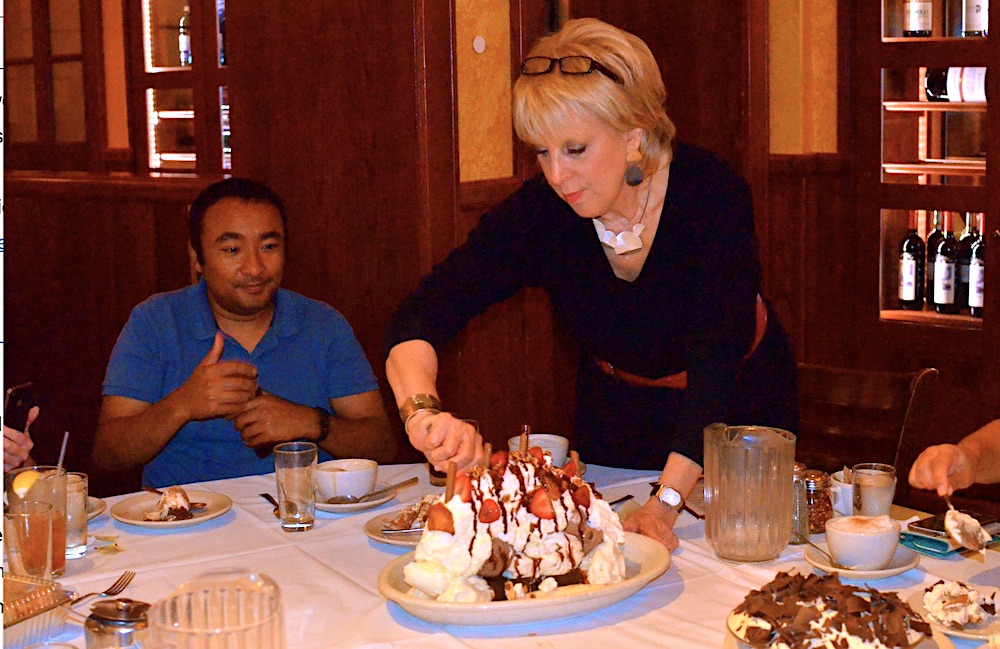 Lastly, our dessert was truly impressive and included some of the best Tiramisu that I have ever had and their well-executed grand finale, "The Titanic". This desert is a multilayered masterpiece that does, indeed, look like a big ship. At the bottom, is a flourless chocolate torte surrounded by sliced banana and topped with two layers of vanilla and chocolate ice cream scoops and then 6 inches of whipped cream. The whole thing is drizzled with chocolate syrup and sprinkled with walnuts.  The flourless torte is my new favorite, beating out my beloved Godiva. The reason is Carmine's was less dense and began melting in your mouth within moments of hitting your tongue.
If you are celebrating anything in D.C., go to Carmine's. They have $11 valet parking outside, which closes at midnight, and a coatroom where you can check both your coat and your leftovers. Their hospitality and an extensive list of Italian delights are sure to please. Finally, if you have any dietary restrictions (Dairy, Garlic, Gluten, Vegetarian, Vegan) Carmine's has a special menu for you.  If you go with a big group, it will be one of the best and most delicious deals you've ever gotten.
View Larger Map
View Larger Map