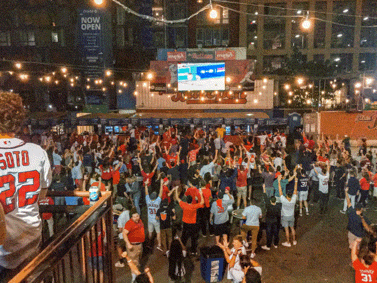 Photo by Jason Morenz
In four previous tries, the Nationals were winless in the playoffs, losing clutch games at home. And for 8 1/2 innings, it seemed like there would be a fifthpeat. The management made a bad decision to start Max Scherzer over Stephen Strasburg, who was dominant in two innings of relief work.
Manager Dave Martinez made another questionable decision of the game when he allowed Max Scherzer to hit for himself and grounded out. Trea Turner followed with a solo home run into the Brewers' bullpen to cut the deficit to 3-1.
And things were going like clockwork for Craig Counsel and the Brewers with a 3-1 lead and top closer Josh Hader on the mound.
But then Hader hit Michael Thomas with a pitch, Zimmerman hit a broken bat single and Rendon took a walk on a 3-2 pitch bringing 20-year phenom Juan Soto to the mound.
Soto, who was battling a slump. batted a bases-loaded bloop hit assuredly to tie the game. Then rookie Right fielder Trent Grisham who is replacing their injured superstar, Christian Yelich, decided to charge the ball instead of block it.
He was hoping to grab it on the first bounce but instead missed it by a mile. The ball rolled onto the field allowing three runs to score, the last been Rendon – the winning run.
Not only is the monkey off the back, tonight was arguable the greatest game in Nats history and one of the most epic in Washington, DC sports since the 1992 Superbowl victory or game 4 of the 2018 Stanley Cup Finals.